Blue Kitchen Cabinets: The hot new trend in kitchen design
Do you want to give your kitchen a fresh new look? If so, you may want to consider blue kitchen cabinets! Blue is a hot new trending color in kitchen design, and it can really add some extra style and character to your space. So if you're looking for a way to update your cooking area, blue cabinets may be the perfect solution! You'll find them everywhere, from rich cobalt to deep indigo; they go with almost any other color scheme or style you might prefer and can be practical if not perfect enough on their own without clashing too much into your existing décor.
Why Blue Kitchen Cabinets Become So Popular?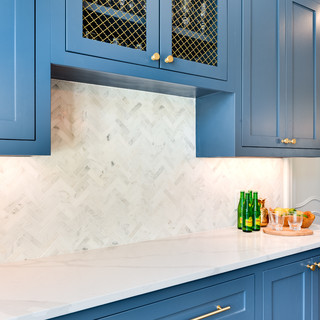 Blue is a calming color that can help to create a serene and relaxing atmosphere in the kitchen. Looking to create a relaxing and serene atmosphere in your kitchen? Consider blue kitchen cabinets! These stunning cabinets come in a variety of different shades, from bright blue to muted blue, and are available at discount prices from wholesale kitchen cabinet suppliers. With their classic appeal and soothing effect, blue kitchen cabinets can help to transform your kitchen into a warm and inviting space that you will love spending time in.
Blue cabinets can help to make a small kitchen appear larger and more open. These stunning blue cabinets are not only stylish and on-trend, but they can also help to make your kitchen feel more open and inviting.
Blue cabinets can be used to create a variety of different looks, from traditional to modern. With blue kitchen cabinets, you can create a look that is both modern and traditional, all while adding a touch of color and personality to your space.
Blue cabinets are easy to care for and maintain, and they will not show fingerprints or smudges as easily as other colors of cabinets. With their easy care and minimal fingerprints and smudges, blue kitchen cabinets are a great choice for any home. And with our wide selection of blue kitchen cabinets at affordable prices, you can easily find the perfect set for your kitchen.
Looking to add a touch of style and personality to your kitchen? Blue kitchen cabinets are the perfect choice! These versatile cabinets can be paired with a variety of different countertops, backsplashes, and flooring to create a unique look that is all your own.
What are the different shades of Blue for Kitchen Cabinets?
What we love even more than how well-received blue kitchen cabinets has been, Is just seeing all those different styles come together as a result – adding sophistication + elegance where there may otherwise only have been dullness! It's not surprising why – it gives your kitchen that vintage feel and makes cooking more fun!
Navy
Blue Mist
Aqua
Teal
Wedgewood Blue
Water Blue
Taupe
Greenish Blue
You can pair different shades of blue cabinets to any design style, because there are other factors at play aside from just aesthetics here. For instance: darker shades tend towards having a glossy surface which makes cleaning difficult while lighter ones have matt surfaces making cleanup easier; brighter hues will show dust better. You can go with bold hues like cobalt or robin's egg blue that will add some flair but not be too overbearing; then there are more subdued colors such as navy and powder which work well for those who want their kitchens simple yet stylish! No matter what tone suits you best – bright & refreshingly cool sounding shades provide an energetic feel in any space while softer pastel options bring sophistication- everyone deserves a place where they feel at home during meal prep time especially since we know how much hard work goes into them throughout each day.
Blue and white kitchen cabinets are both classic and timeless, and will never go out of style. Plus, there are so many different shades of blue to choose from, that you can find the perfect color for your home. If you are looking for some inspiration, take a look at these beautiful blue and white kitchen cabinets. You are sure to be inspired!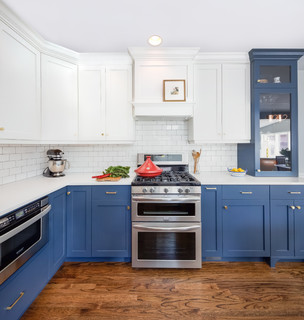 How do you style blue kitchens?
There are many different ways to make it chic in your home. Whether looking for a sleek and sophisticated look or something more bohemian, there's sure to be the perfect shade of blue that helps achieve any interior design scheme! Here we'll explore some popular options when customizing these gorgeous spaces:
Create an inviting space where cooking feels fun with light shades such as robin eggplant color which pairs well alongside white walls and other lighter colored elements helping create open plan living areas making entertaining easy while also adding brightness throughout; offsetting your blue kitchen cabinets with white or lighter colored walls is the going trend.
If you're looking for a more subtle color that still stands out against its surroundings, then there is nothing better than taupe. This shade doesn't have the same flashy vibe as other shades of blue but it works well with brass hardware and natural wood elements to help tie your entire design scheme together without being too much at once!
Consider opting for greenish-tending blues like teal or aqua – these colors will pair beautifully alongside certain metals/hardware while creating an elegant yet trendy look.
If your kitchen is anything like mine, it's got lots of bright colors and fun shapes. But if I wanted my space to feel more grown up (and not just kid friendly), there were one thing that would instantly make everything look older: black appliances!
White dishes in different shapes and sizes can be a great way to create visual appeal for your kitchen. The clean, simple look will go well with the blue cabinets you have installed on this particular wall color!
Don't forget about the color of your countertops, the perfect countertop design for your kitchen is one that blends with the blue cabinets you have installed. The most popular countertops this year are the colors are off-white and dark gray.
If you're completely remodeling your kitchen you have many choices in flooring from hardwood, tile, vinyl, laminate, cork or even concrete. Food stains will always be at their most noticeable in your kitchen, so you want something easy to clean!
What is the best way to clean kitchen cabinets?
Lastly, if you want your beautiful kitchen cabinets to last for years without any worries about wear and tear then be sure that they're cleaned on a regular basis. Smudges gather around doorknobs where hands go most often during meal prep sessions.
This DIY solution of mixing together equal parts white vinegar and warm water in a spray bottle. Mist on cabinets, let sit for one or two minutes then wipe clean with soft cloths dipped in the solution to remove dirt residue from hard-to reach places! Once you've done this make sure there are no streaks by adding five drops liquid dishwashing detergent before using again. "Wax your cabinets about twice a year, put wood furniture wax on your custom cabinets for a protective barrier that keeps debris, oil and grime from sticking to the wood and discoloring it. Spray the wax onto a rag and wipe it over the entire surface of your kitchen or bathroom cabinets so that the finish comes out smooth.